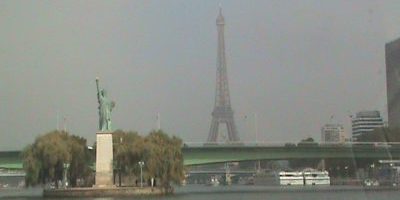 When you have a city with the age, scale and population of Paris, it's no surprise when you get a vast mixture of culture and heavy traffic. Île-de-France is the region of Paris and seven other prefectures, each with very different micro-cultures.
International Travel
You can reach Paris on near any form of transport you can imagine, depending on where you are in the world. Direct flights, trains and boats — you can even drive there in a car, as many do in Europe. The economics and pragmatics of using each transport to get to Paris depend on the time of year and what you intend to do when you get there.
Plane
Flying is a great way to get to Paris when you finally get onboard — but queuing and claiming your baggage is slow. Planes to Paris, Charles-de-Gaulle, the busiest and largest airport in France, lands you less than 20 kilometres from the edge of the city.
Many tourists want to stay near famous sites such as the Eiffel Tower and the Champs-Élysées, which are right on the west side of the city. Paris-Orly is less than 10 kilometres to the centre, with faster access to the west side than Charles-de-Gaulle.
Paris-Orly airport offers all forms of public transport, though with fewer international destinations. Paris-Orly takes around an hour in traffic to drive to Disneyland from each of these airports — 30 minutes if you are lucky.
Train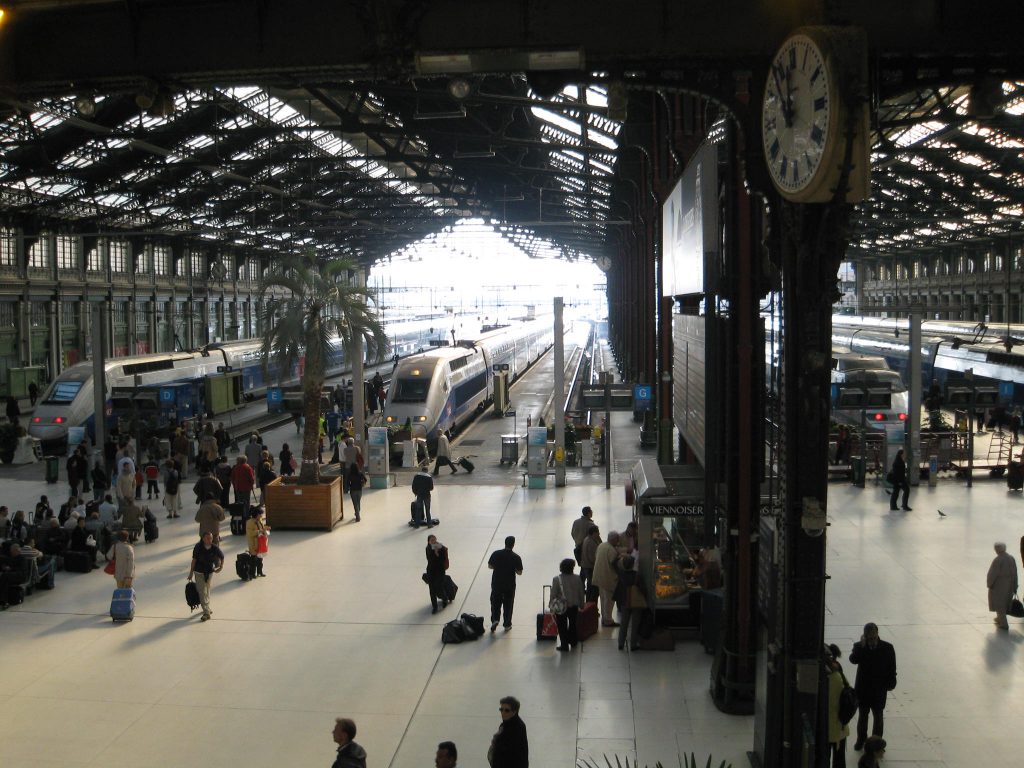 France has an excellent high-speed train service that is both reasonable in price, and the fastest way to get to the centre of Paris. The TGV or the Eurostar are luxury train services that transit around, across to, and over the borders of France.
The Eurostar ends up at Gard de Nord, which is in the 10th arrondissement of Paris and offers plenty of ways to get around the city.
Car
Driving your car through an unfamiliar environment, as with any major city, is a challenge. Once you fight your way through the Boulevard Périphérique, you will encounter the city's narrow streets and confusing one-way systems. The traffic lights are small and hard to see, and everyone races between stops.
You will also discover that, even once you find a place to park, the price of a parking space will vaporize any savings you made. Though a car is ideal if you want to visit a lot of places on the outskirts of Paris.
Boat
It's possible, Paris has several ports, for smaller vessels, in both the 12th and 15th Arrondissements. The port is accessible to those that are willing to navigate the Seine through the busy boating harbour at Le Havre.
There are many cruise ships and ferries in Le Havre, which you can disembark from. You can also find small cruise boats that take a week from Le Havre to Paris and back again.
Local Transport
There is little point in getting a rental-car in Paris; it's easier to take public transport or to find some form of a two-wheel rental to get around on. Driving means heavy traffic, and if the roads are clear, the car parks are full.
Taxi
Not always easy to find, but there are plenty of companies where you can call or track one on your smartphone. As with all taxi drivers, you get the friendly ones, and then those that take an instant dislike to you. And don't expect an English-speaking driver.
If you are taking a taxi, learn how to tell the driver your destination in French.
RER, Metro & Tram
Both the underground train and surface tram and train services are the best ways to get around Paris, even into Paris from the airport. A Paris Visite ticket gives you access to all forms of public transport, with discounts for various other services and museums.
A 5-day ticket will cost you less than the price of parking your car for a day in Paris. And with the Paris Visite, you can select the areas you want to pay for, which go as far out as the airports and Disneyland.
Bike & Electric Scooter Rental
You can also rent bicycles and scooters. These you can either pick up, or you can arrange delivery to wherever it is you need them. The rental prices work out more than public transport, but you do get the benefit of minimising walking to and from your destinations.
Food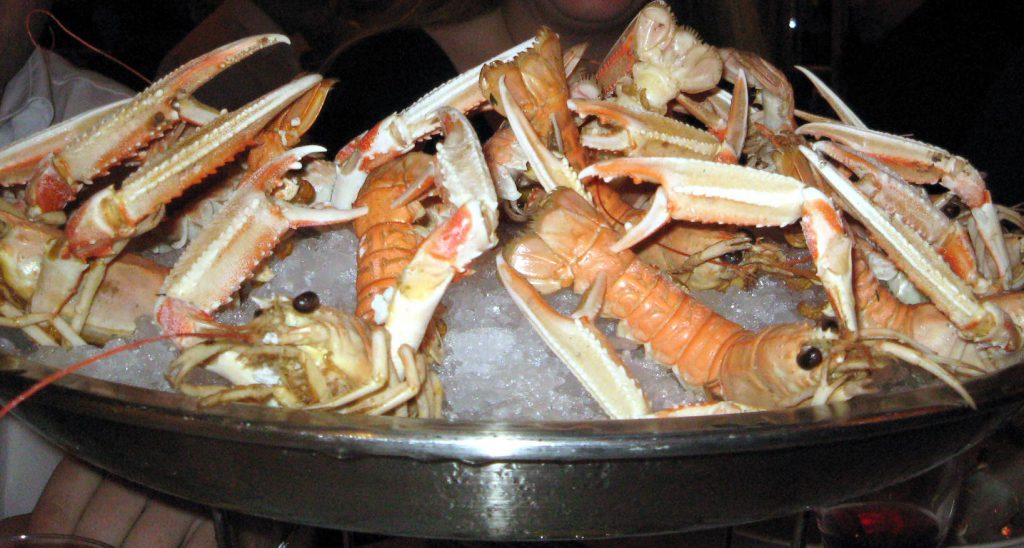 It's France! Everywhere you go, there are boulangeries, pâtisseries and chocolateries selling some form of food. The cultural mix means that you can get near any type and origin of food that you can think of.
Restaurant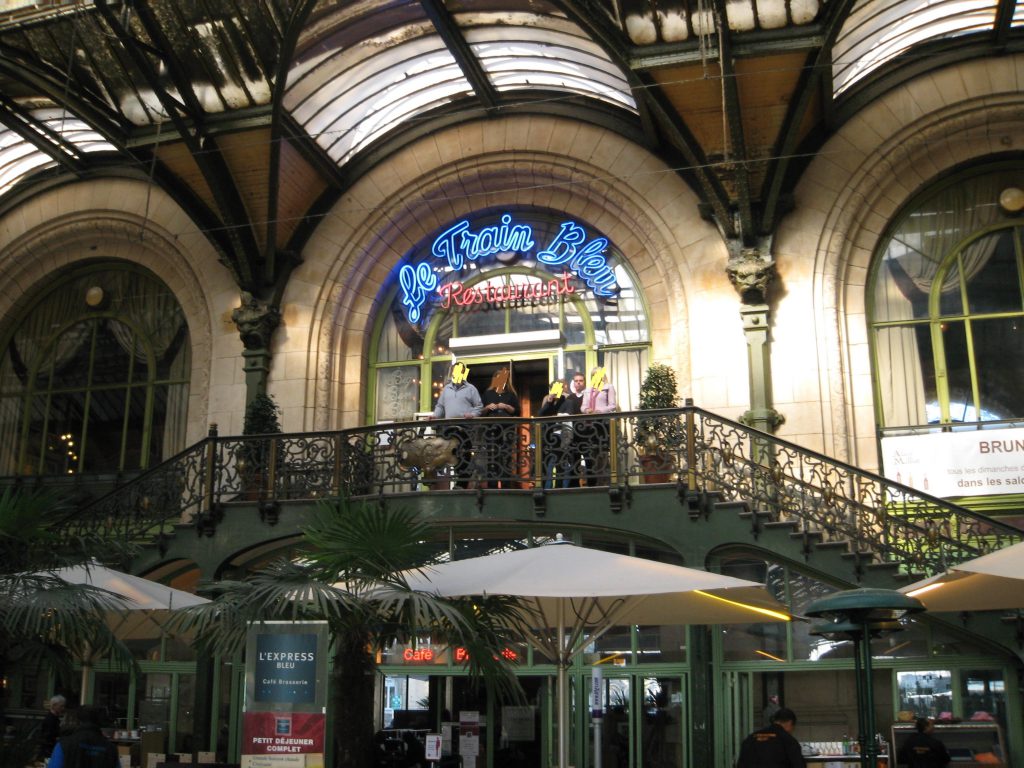 Even if you prefer fast food, some special restaurants in Paris deserve a visit. Many of the main train stations in Paris are historical monuments, each with a famous restaurant. One such restaurant is Le Train Bleu, at the station Gare de Lyon.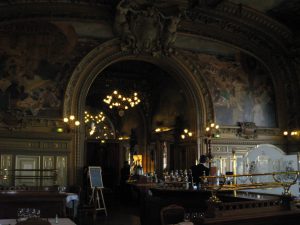 For over 100 years, Le Train Bleu has greeted its guests with intricate art deco and fine food. My pictures of the dining room do not do it justice; you can find better ones on their site. You will need to book Le Train Bleu in advance.
There is the Jules Verne on the second tier of the Eiffel Tower, But you can wait months to get a reservation. Or you can try La Couple on Boulevard du Montparnasse, an art deco restaurant famous for its steaks, seafood and lamb curry.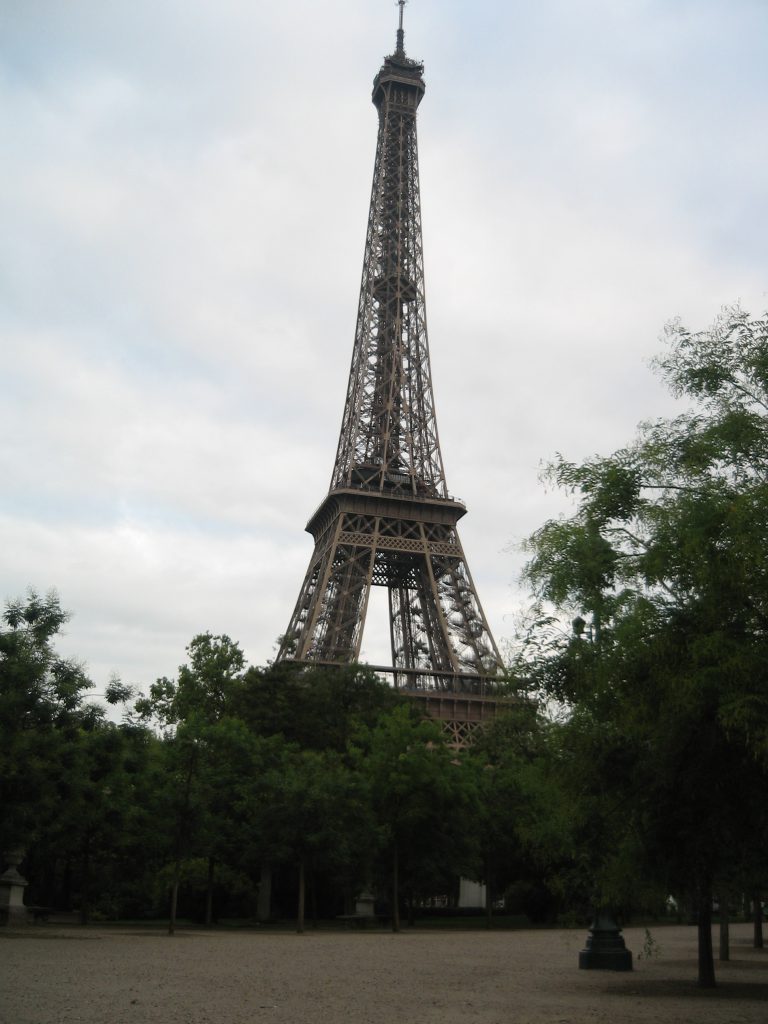 Boulangerie
The cost of eating out in Paris adds up fast, especially if you are having breakfast, lunch and dinner out. Boulangeries offer you a quick place to eat on a budget, though you will need to take your purchases elsewhere to eat them.
Boulangeries offer the ever-popular baguettes, croissants and loaves — but you will also find many bakers that sell confectionaries and drinks.
Supermarket
Big-chain supermarkets like Carrefour, Monoprix and Franprix will sell most of the things that you forgot to pack, as well as food and drinks. The larger the supermarket, the more chance you will find ready-made meals and more cheeses and meats than you thought existed.
Open Market
If you are renting a serviced apartment, why not shop and feast like royalty? The local markets offer exceptional produce, and the prices, selection and quality tend to be better than any supermarket. Rue Mouffetard in the 5th is one such pedestrianised road where you can buy exceptional wines, food and other local products.
Accommodation
There is a huge number of ways that you can stay in Paris without breaking your budget, while staying in more popular areas. Hotels are great if you like that type of experience, but you can also do something a bit different.
Hotel
A 4-star hotel in Paris will mean a small room with a bathroom, 'breakfast included' means you are paying more for the room. Many of the 5-star hotels will have fewer facilities than you would expect from such a grade in another city. The closer you get to the Louvre or the Eiffel Tower, the high the price.
You are better off saving for travelling and activities, and look for 3 to 4-star hotels that are clean and in good locations. Many of the hotels sit over underground train lines. Though this means a short walk to the station, you will feel the building rumbling as the trains pass.
Apartment
Serviced apartments are by far my favourite option in Paris. Serviced apartments are more common than you may think, and they are in some fantastic locations. And because they do not need to be on the main roads to advertise themselves, they tend to be in quieter areas.
Serviced apartments with two bedrooms, a kitchen and a bathroom, will cost around the same as a 4-star hotel in the same area. Some of these serviced apartments will also provide breakfast in the lobby. With all the local shops you can stock-up, cook and enjoy a good breakfast without having to get dressed for it.
Houseboat
Staying in a houseboat will cost around the same as a serviced apartment. But as a bonus, you get to stay nearest to the main tourist spots and enjoy fantastic views of the waterways.
Hostel
Budget travellers can save by staying in hostels, which are convenient for a one-night stay. Often you will find these next door to main train stations, and the standards are high. And modern hostels with private rooms for two or more people, cost far less than the other options.
Entertainment
Paris is the city of entertainment, almost the definition of it. The art is everywhere, whether it be the food or on a wall. Many public spaces get missed when tourists overspend their time queuing for famous and the more popular exhibits.
Zoo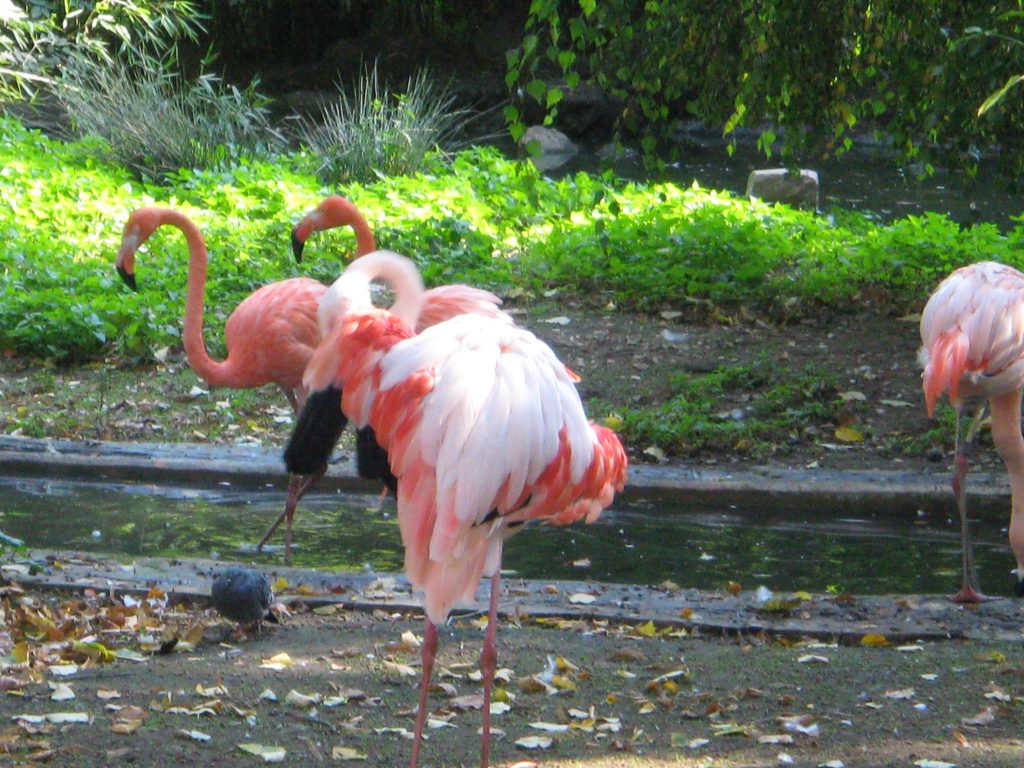 Parc Zoologique, in the 12th of Paris, is one such hidden gem that holds 180 animals. The zoo consists of various habitats to simulate tropical conditions and a one-acre greenhouse. The 36-acre public zoo is a full day out.
Museum
If you travel to the north of Paris, you can spend a whole day at the Cité des Sciences et de l'Industrie, the largest science museum in Europe. Tickets are cheap, and if you have kids, this is a great place to entertain them, especially if it is raining.
Show
Cabarets are indigenous to Paris, and it is almost a crime to not see one while you are there— it's a good idea to book in advance. The nature of the show means that children of a lower age will not gain entrance.
Cabarets are fun to watch with friends and family while enjoying a meal and a few bottles of wine. The Lido is a legendary cabaret, but there are plenty of other shows, including some that a more risqué.
Shop
There is a wide divide on what people may consider good shopping. If it is designer goods with high costs, you can go to the 1st and the neighbouring 8th districts, for famous brands and shopping centres.
If you want open-air shopping for food, drink and clothing — Rue Mouffetard, Marche Maubert and Bastille markets are forms of culture on their own. If you have had enough of high-street brands, try the refreshing experience of open market shopping.
Tour
Tourism in Paris is more of an art; it's constantly changing and innovating new modes of transport to take people around. Walking, bicycling and scooter tours are a good way to hope in and out of exhibits.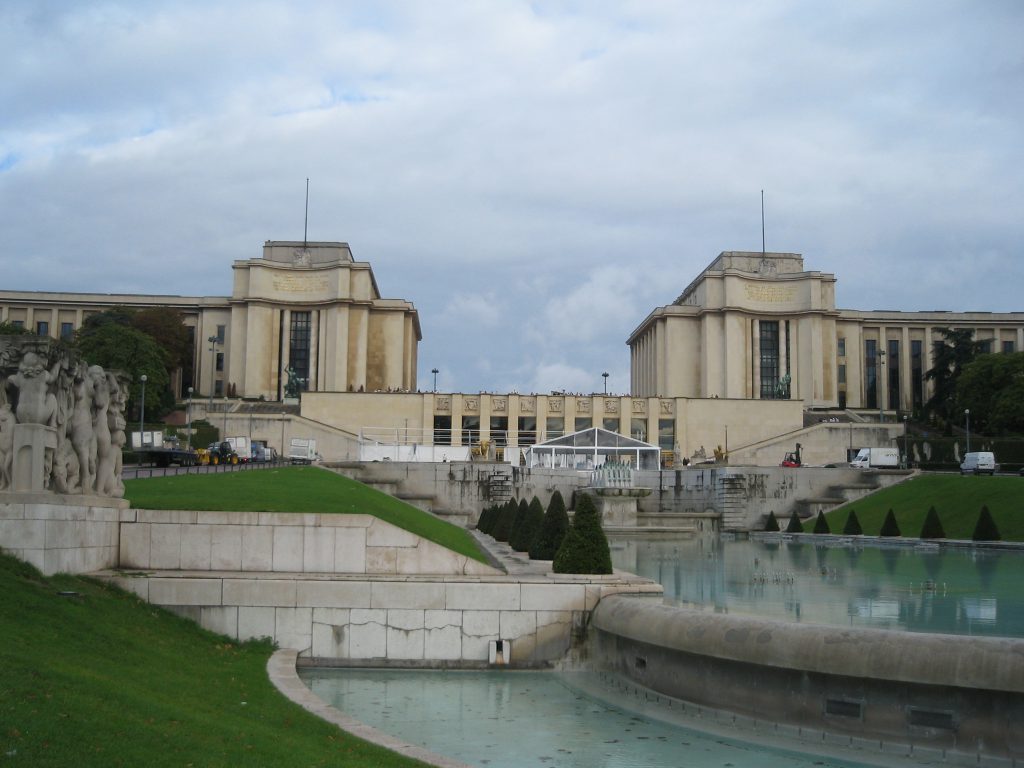 Canal boat tours will offer a show and a meal as you cruise along, or you can take a hop-on-off boat. Bus tours also do an equivalent ground-based version. Tuk-tuks, pedicabs and rickshaws, are also popular options for visiting the sites.
Weather
Paris is an inland northern city— so warm and sunny weather is rare, though it does happen.
The Parisian summers last from June to September, and in that time, you will either be subject to intense heat and sunburn or cold winds and drenching. Pack for all situations and take at least one jumper, a raincoat, and a pair of shorts.
The winter in Paris gets as cold as it is possible to get without snowing. Invisible ice is common on the backstreets, and the cold and damp air is harsh on the skin.
The moment you walk into a restaurant or a shop, you'll discover that they have put the heaters to TROPICAL. Take the warmest coat you have — otherwise, you will spend all your time taking off and putting on layers.
Outskirts of Paris
The cost of renting in Paris has led many to live outside the Périphérique, and as a result, you can find little Paris' in these overspills. These small communities are easy to get to either by train or metro to the edge of Paris and then walking the connecting bridges.
Malakoff
Small restaurants such as Au Timbre Poste and inexpensive hotels make it a great place to stay. You can visit the centre of Paris or shorten your travel time to the coast or the airports if that is how you travelled.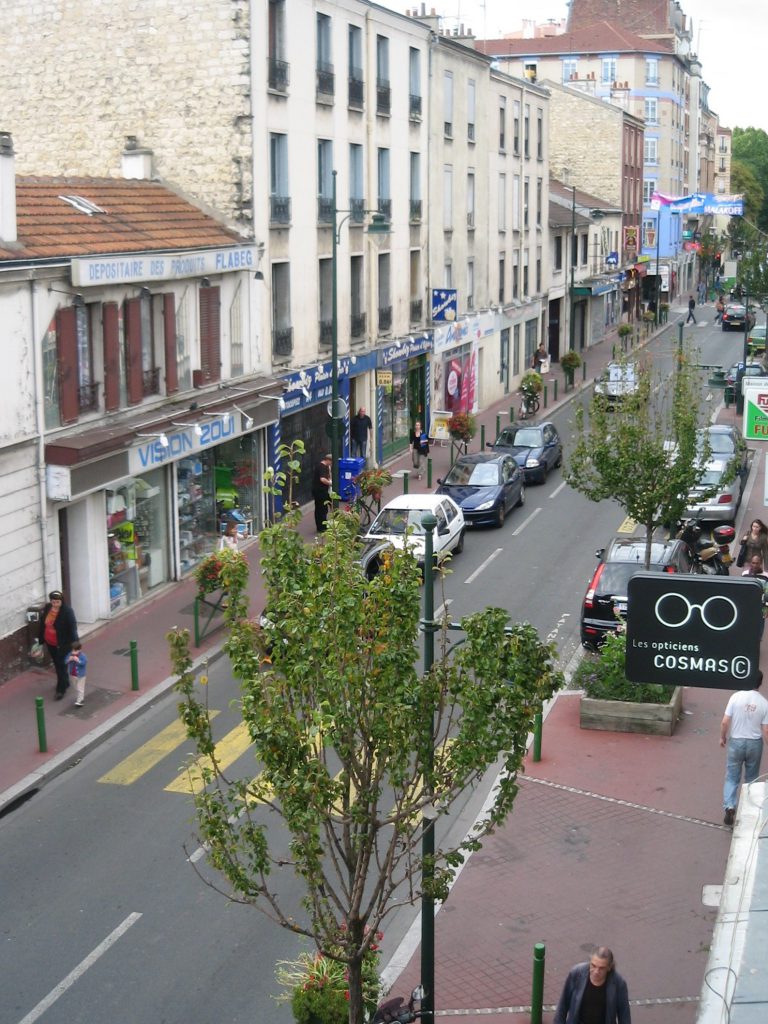 And from Malakoff, you are a few kilometres from the Paris Observatory. Founded in 1667, the observatory has a long history— it is something a little different to visit.
---
It is easy to go to the most famous locations and claim to have accomplished something. Though the most rewarding part of travelling to unfamiliar places is the sense that you have made a discovery, and those are the memories that will stick.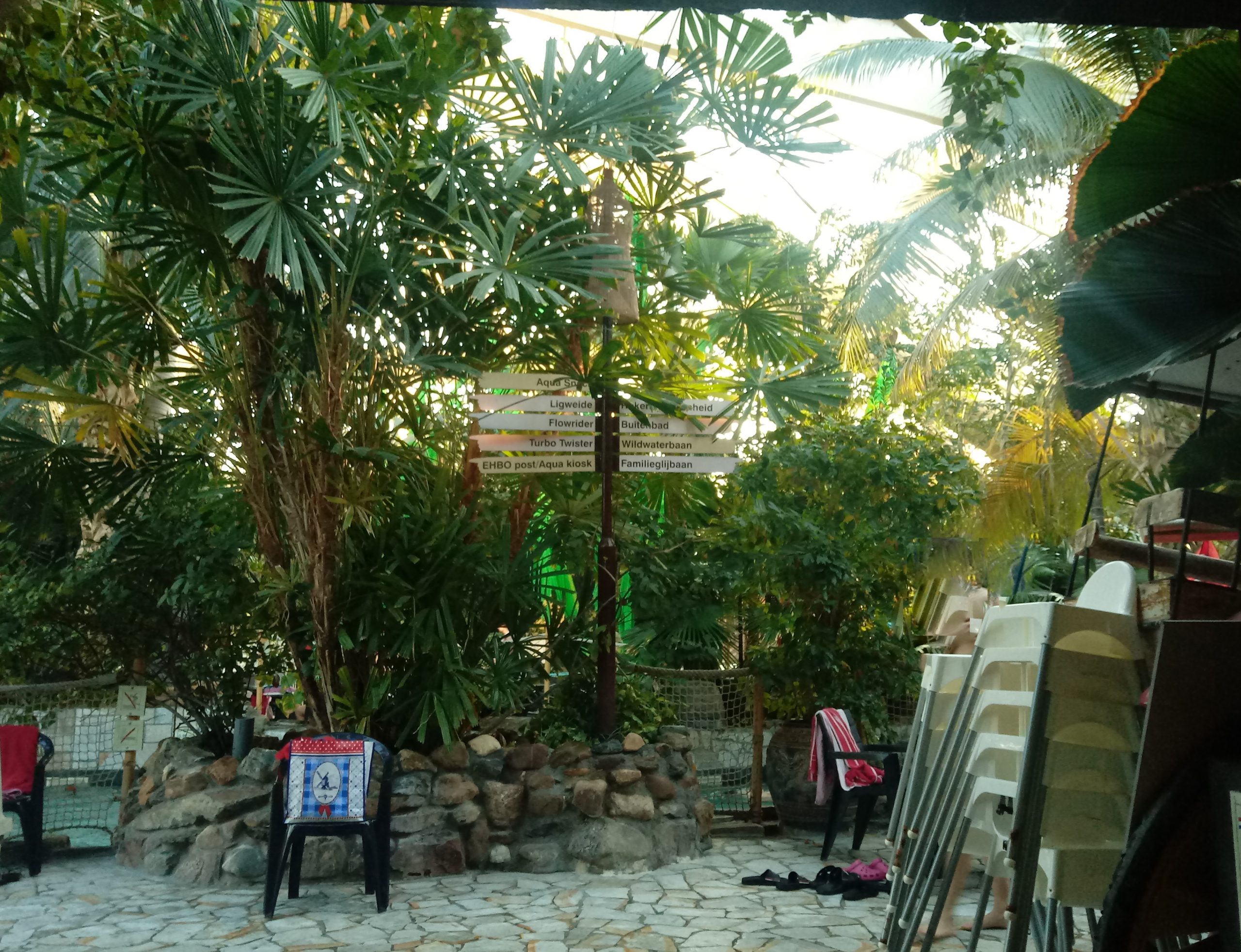 It is surprising how many people look to the Netherlands to enjoy a tropical Christmas — swimming, tanning, and water-sliding. There are resorts that offer a cool seasonal atmosphere and equatorial sweltering, all in one location. And if you decided to leave booking the place till October, you would be out of luck.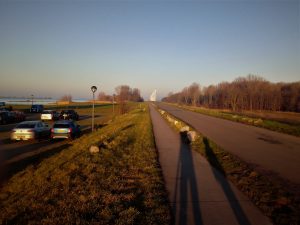 Flevoland is the newest of a list of reclaimed islands in the Netherlands, set 3 metres below sea level. The plateau is home to tens of thousands of people — and a couple of large resorts. Resorts that offer the type of entertainment that young families can enjoy as a whole.
De Eemhof is in Flevoland, about an hour's drive from Amsterdam, and in the centre of the Netherlands. Flevoland is a monumental project, which has required immense dams, dikes, and pumps to get the water out and houses in.
Welcoming
We travelled to De Eemhof, to a CentreParc, for a few days over the holidays. Getting into the resort is straightforward, and the staff meets you at a drive-through check-in. Everything thing is ready in a pack, which includes the keys to your apartment and tickets for whatever packages you went with.
A forest surrounds the area, shielding it from the wind. In the winter, it is cold as you would expect, and visitors make the most of the indoor activities.
Accommodation
There are two types of accommodation, huts that are in the middle of the park and overlook one of many artificial lakes. Or the alternative is to go to a furnished apartment with dramatic views over the waters of Nijkerkernauw and of the town of Spakenburg.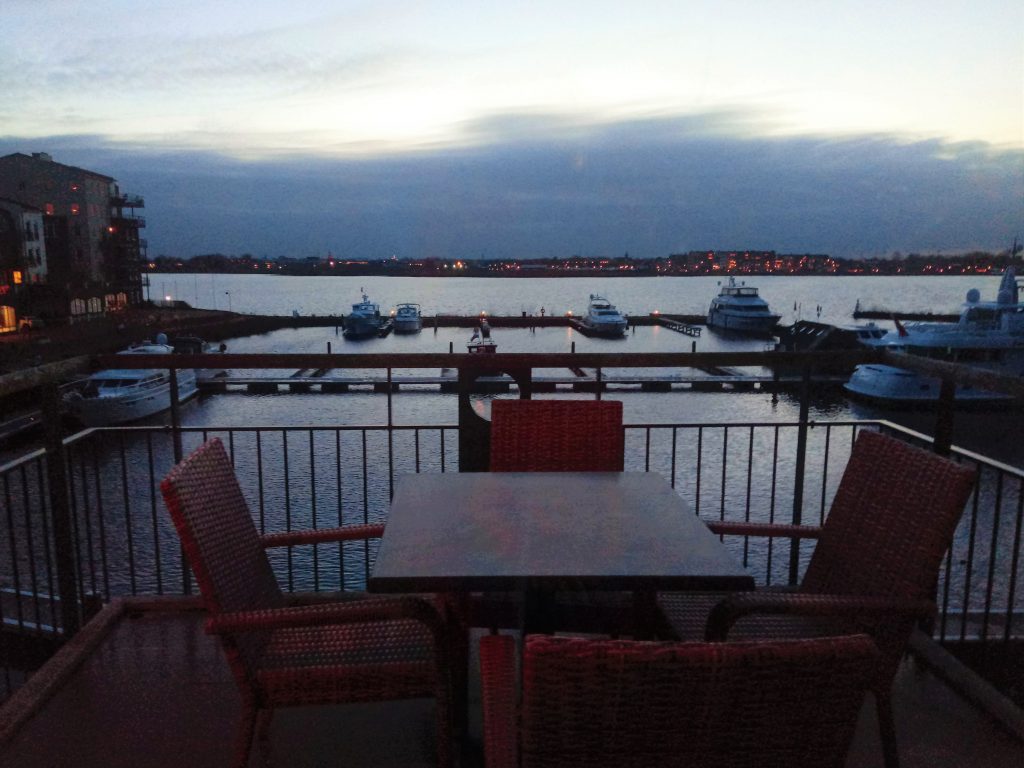 The living quarters are well-kept and equipped with everything needed to cook, clean, and care for a family. Our apartments had saunas with seating for 8-people, which I switched on by accident and turned the whole bathroom into a sweat-box.
Accessible to All.
The marina apartments are a further walk to the waterpark, restaurants, and shops in the centre of the complex. But the view is fantastic, you get a small balcony, and there is a large restaurant on site suited for more formal occasions.
You can also hire golf carts and bikes to get around. Elevators and wheelchair ramps make the apartments and areas of the resort accessible to all. And if you have kids, you can book a babysitter to get a proper break out of it.
Waterslides
Good old-fashioned waterslides that have less to do with careful descents, and more focus on bruising. Having been on a few water-rides in the past, it is safe to say that bigger is not always better.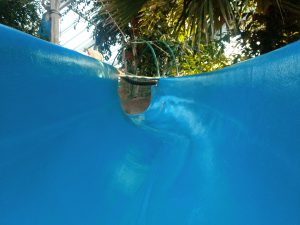 These slides are like the ones from the old Water World park in Hong Kong; classic fiberglass and concrete. The big difference is that in Hong Kong, the temperature rarely went below 10C, which is not far off Holland's average summer temperature.
Heated Waterpark — Cold Plunge.
To compensate, the heated waterpark is to a similar temperature and humidity to that of a tropical climate. Even the pools that go to the outside are at a comfortable bathing temperature. You can sit in comfort in the outdoor pool, with snow falling, and not feel like it is time to get out.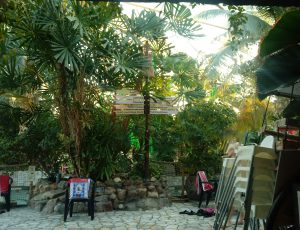 The outdoor pool has a cold plunge, which is as bad as it sounds. Swimmers jump in from the pleasant warmth of the gas heated pool to understand the feeling of freezing. The heated pool is a small section of the water park, and you start from the warmth of the main building, so even those that fell the cold will cope with this.
Too Much Fun to Miss.
From the main heated pool, you can go down the solid concrete rapids into various spa baths, slides, and hidden (underwater) speed bumps. Getting on in my years, I did feel like I had broken a hip on the way down. That said, the slides are far too much fun to miss out on, and we went on them at least 10-times a day.
Other slides include the usual tunnel sort, a few rings, and a wave pool. There is also an artificial wave facility in the park if you want to try your hand at falling into a high-powered wave face-first to amuse your family.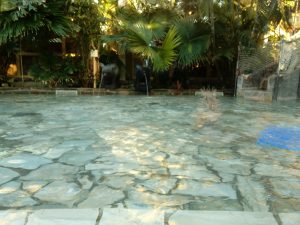 Food is what you would expect of a park, with a similar choice and price to anywhere else. You can change and shower for free, but entry is either paid for with the price of accommodation or on entry.
Activity Centre
Water is not for everyone, especially if you are living in a country where it is raining 90% of the time. So, the park has made a retreat from the wet and installed an activity centre to cater for kids up to their teenage years.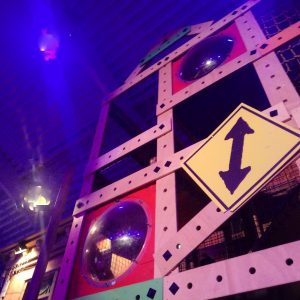 Indoor climbing, bowling, live shows, arcade games. The park wants to keep people on their property, and they do it well. In the summer, these activities expand to the outdoors, with more climbing and boating activities.
They have honed in on the simple concept of having a place that a family can go and be together while still having the space to do their thing when they want to. There is also a small petting zoo.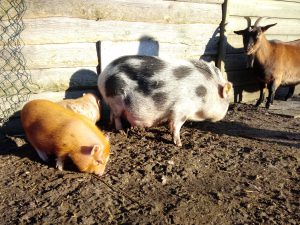 Food
There are two choices on how you can choose to eat in these places. You either shop and cook, or you go out to eat, or you can mix it up. As a fan of self-sufficiency, we prefer breakfast and to eat either lunch or dinner in the apartments we stay at.
Prices for food and drink are reasonable.
Going out two or three times a day to forage for food, and pay a premium for it, is not enjoyable. A good-sized supermarket is on-site, where you can get booze, sweets, fresh and frozen food, and rent hot plates to cook it all on. The big surprise was a great choice of gluten-free bread, pasta, and some other frozen food, which was essential to us.
And despite being the only onsite supermarket that was in walking distance, the resort does not take advantage of it. Shop prices for food and drink are reasonable, and you do not feel like you have to be careful about what you buy.
Restaurant
When you are on holiday, you will want to go out for a meal. Again, the staffs' readiness to accommodate our gluten-free needs was a surprise, as were the menu prices, which were a lot lower than you would expect.
There are several restaurants and cafés to choose from. The venues include Italian, buffet, bars, and snack restaurants. All these venues offer fresh food, which comes with a smile.
Closest Town
Being a keen runner, I decided to run the road that compliments the giant windmills. Each massive piece of machinery stands hundreds of feet into the sky, with no one around — even the ducks hide from the chill wind.
At the end of this line of 20 or so windmills stand a bridge to the mainland. The bridge looks a lot nearer when viewed from the De Eemhof marina — which is, in fact, 8 kilometres away. In the opposite direction, there is another bridge to the mainland — also about 8 kilometres from the marina.
If you want to walk to Spakenburg (500 metres across the water), you will need to make a 20-kilometre detour. There are small boats that carry passengers in the summer and parts of the winter, but these are not cheap.
As it happens, there is plenty to do at the park, and you do not feel the need to go anywhere. Spakenburg is a trip you could do when leaving the complex, on the last day of your holiday.
Weather
It's Holland. Bring warm clothes and an umbrella.
Negatives
Couples could go, but the idea of this place is to keep kids out of their parent's hair and prevent family arguments. Younger adults in their 40s will enjoy the indoor heated water park, as did I. And it does give the feeling that you are in a country other than one in Northern Europe.
The remote location is my single biggest gripe. This is from someone that does not live in the country and would like to walk to a nearby town for variety. We could have gone exploring, but we were having far too much fun to worry about soaking up the culture.
We did drive to nearby Harderwijk, a traditional Dutch town, which is 20 kilometres away. The town is worth visiting and has plenty of history to absorb.
Resort Result
After 4 days, you will feel like you have gotten everything from the park — in the wintertime, at least. In the summer, when you can spend more time outside, you could spend a full week there, without complaining.
Parents have a chance to enjoy the holiday they paid for.
Would do it again, if not this resort, then a similar one. We have done Club Med in the past, which is more for adults wanting to get drunk and behave like kids. This place treats kids with respect and gives them plenty to do. And parents have a chance to enjoy the holiday they paid for.
If you have been to Holland before — this place will make a nice change. If you haven't been, the location is a good base, if you have a car. It is set dead centre of the north and the south of Holland — you are close to Amsterdam, Rotterdam, and Utrecht.
For those that prefer a car trip over a long-haul flight to a tropical climate that lacks any Christmas atmosphere. And for those that live in Northern Europe and want to do something a bit different, then this is different enough for consideration.