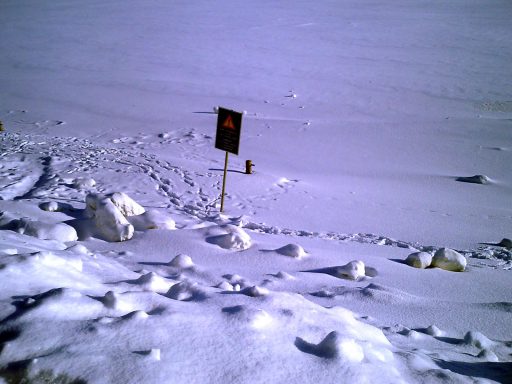 ROVANIEMI – FINLAND #SNOWMOBILE # HUSKY
Last one on Finland, I promise.
Finland is a diverse country, there is a noticeable influence from neighbouring Russia , and the extreme seasonal changes show in terms of the outdoor culture and powerful drinks.
Rovaniemi is a great place to start exploring the region, it has an airport, and marks the gateway to the arctic circle.
Fly
My first-ever trip to Finland was to Rovaniemi, Lapland, Home of Santa Claus. It was the end of January, after the family-package-rush had come and gone, and everyone had finished begging Santa not to cancel their presents.
On this trip we had to fly to Helsinki first, then take a connecting flight, 450 miles north to Lapland. It is easier to find package holidays to fly direct to Rovaniemi over the Christmas period.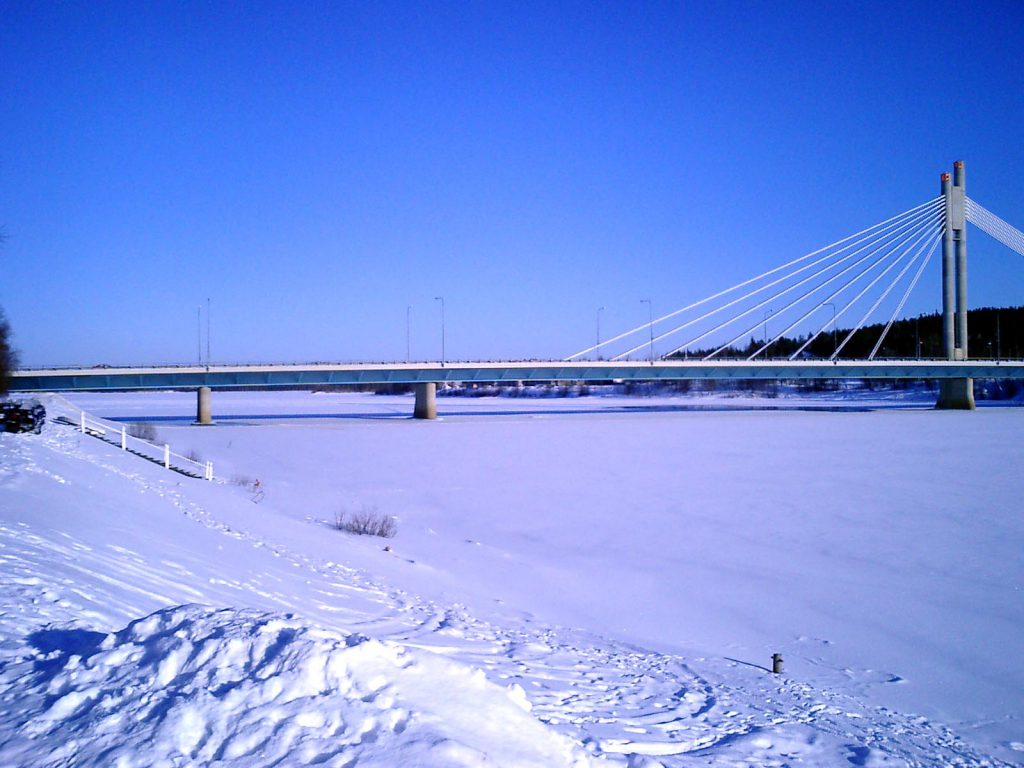 The airport is small, big enough to land an A320, and close to the town centre. The town is bigger than most would expect, and the first surprising thing to see is seeing a colourfully lit suspension bridge making its mark over the Ounasjoen river.
Mobile
The rivers at that time of year are giant ice rinks, with small breaks of water surrounding the bridges supporting columns, and other swirling pools.
Light from the sun is in short supply that time of year, around 4 hours from sunrise to sunset. The low light compounds the feeling of the cold, but it makes for great snowmobiling.
To be honest, who cares if it is cold and you had crushed your finger in a car door the day before when you are going a 75 mph over a frozen river. You can rent snowmobiles with heated seats and handgrips. The rental company gives you gloves, boots, ski suit, helmet, and a balaclava.
You really do not need to bring any extreme clothing. Trips are always done with a guide; it is easy to get lost. These are heavy vehicles, easy to tip over in soft snow, and it is hilarious watching others getting pinned down by the machine.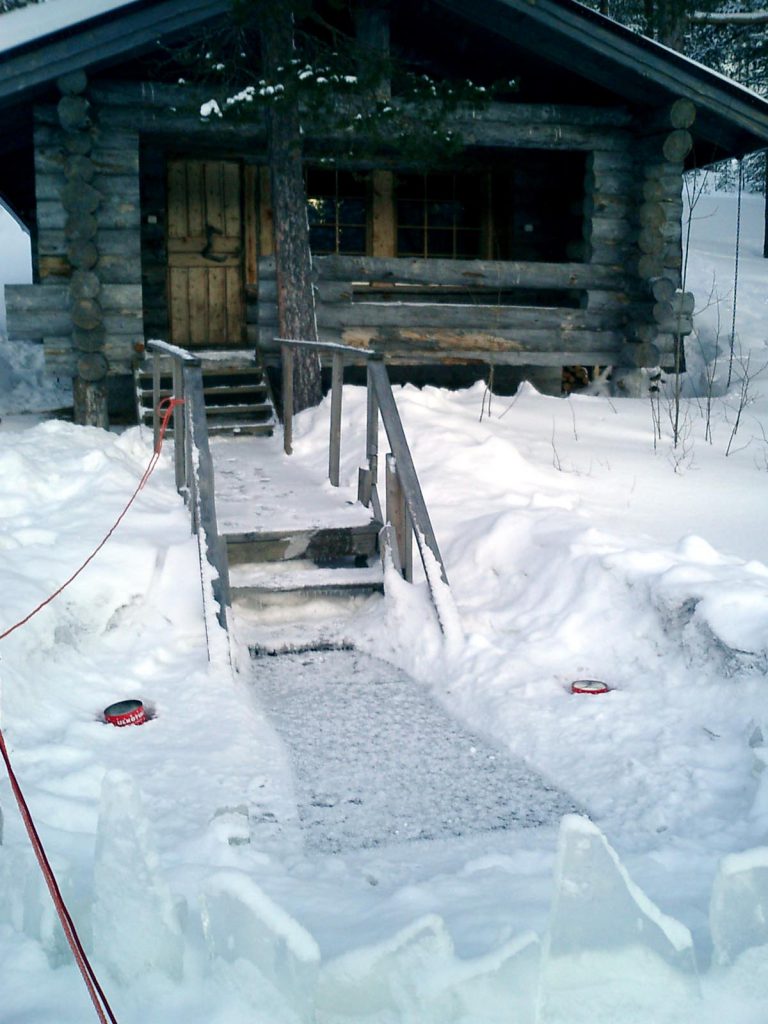 The river ice is thick and more than strong enough to hold up a car, however, the residents are experts in gauging the safety of river-ice. Going out alone would be suicide.
Even the base rental models, will accelerate faster than most motorbikes. The snowmobile caterpillar track has metal pins aiding its grip, resulting in near-zero slippage.
The only thing they struggle with is slow speeds over obstacles and powdered snow. Again, who cares, no one wants to go slow, this is a way of traveling that should be mandatory for the entire planet.
Borealis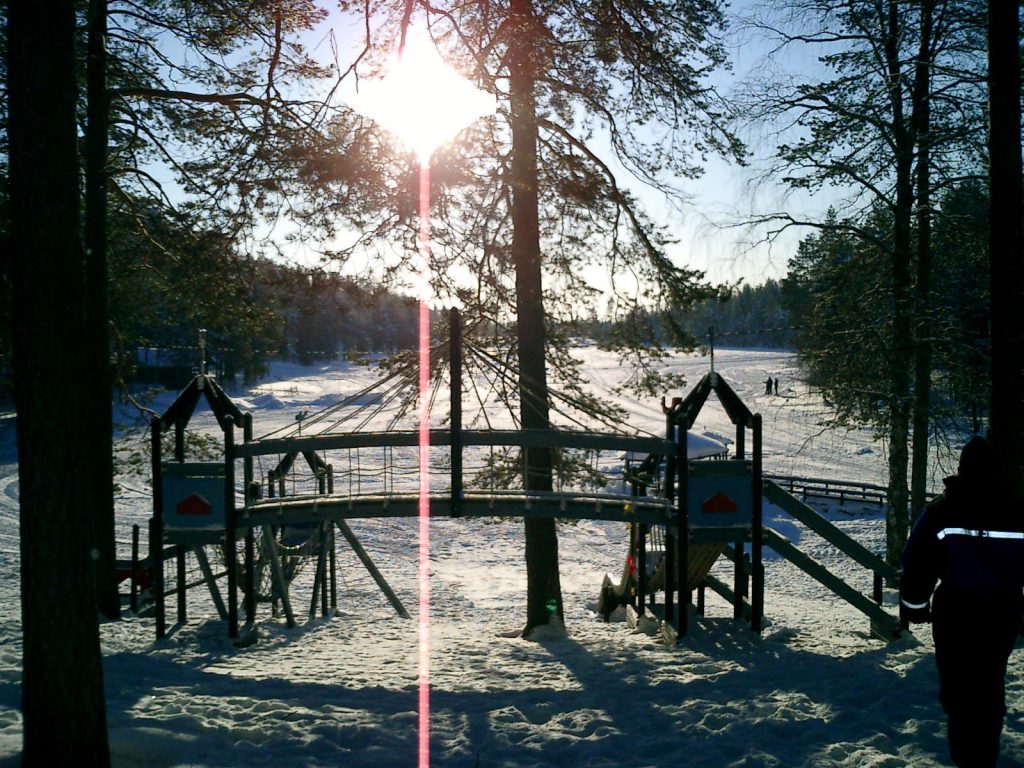 For those stuck with a young family, there are slow-mobile tours, and the family gets towed behind in a sled. These tours are more common leading up to Christmas.
At night guides take groups of snowmobile riders out of town to one of the many campsites, for a barbeque, and to watch the Aurora Borealis light up the sky.
Rally
If you like winter sports, then it is the place to go. We came across an Ex-WTC Rally driver that would rent out his 80s rally cars to two morons with enough money.
We rented one 4×4 with metal studs, the other a 2-wheel drive with regular road metal strips.
The 4×4 can be driven like loony-toon, around the ice all day, doing perfect drifts and looking like a professional.
The regular car requires a feather-like touch on the accelerator, any lead-footery results in spinning on every corner, and an angry driving instructor shouting from the walls of the driving track.
Sled
Rent a snowmobile before and after a sled ride. Reindeer are said to be in greater numbers in Lapland than its human population, roughly 200-thousand. The animals are utterly delicious with mash potato and wash down nicely with a pint of Koff.
Reindeer are suited to the weather in a way that other animals are not, cows and other livestock would simply freeze living outside of a heated warehouse.
They are well cared for animals and allowed to roam freely in farm enclosers. Some farms are set-up for visitors, allow sled rides, and demonstrate some of the hardships of farming in the harsh environment.
Huskies are cute and done to death in the Kemi Article, but they are worth taking a trip on in that part of the world.
The residents of Rovaniemi are incredibly fortunate to live in a place that changes so radically over the seasons. In the winter it is an icy amusement park, in the summer, camping and boat trips take over.
It is as if the whole population has to change their thinking, along with swapping the tires on their cars.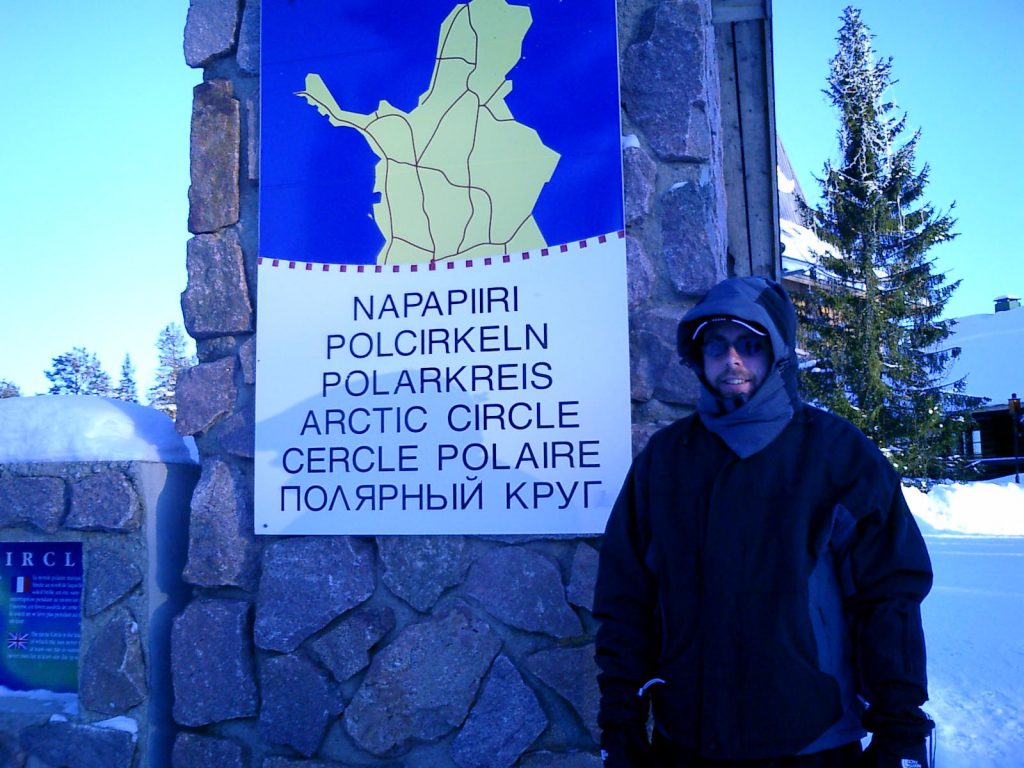 Zoo
We had a spare day. Going on motorised thrill vehicles is expensive to do every day, so, the zoo seemed like a good idea. It was -25 outside the hotel, and the ski suits had gone back to the rentals company.
The Rauna Zoo is a 40 miles journey from town, it takes around 40 minutes in a taxi, far away from the heat of the buildings and deep in the forest. The first thing that we noticed was the temperature going down on the way there, on the car's thermometer.
Getting out of the warm vehicle, it was evident that the trees had shaded everything from the sun, making the air a chill -40oC. The first thought was to get into the entrance building and stay there.
It feels like a big zoo when you are walking around on an icy wooden deck, shivering. Even with 3-pairs of socks, thermals, and thick gloves, the cold penetrates the layers like they are nothing.
If you get past being cold, the zoo is fascinating with its variety of arctic animals: Polar bears, birds of prey, wolverines, all perfectly happy sitting on a pile of snow.
Drinks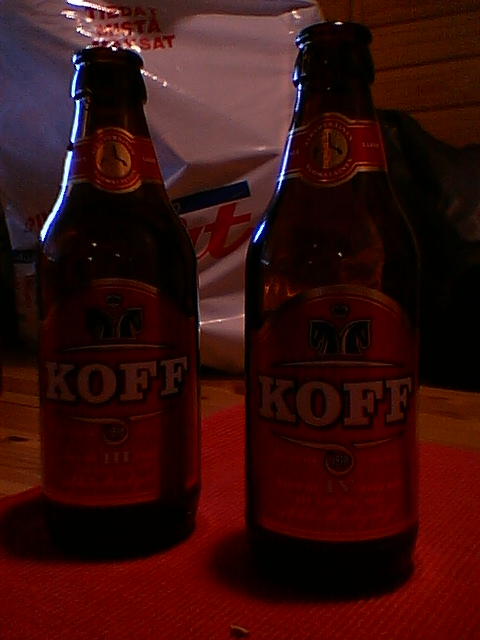 Koff and Karhu, are both very tasty beers, and they both come in strong versions. Local drinks always suit the climate and activities the best.
Vodka suits the arctic circle perfectly it is cold, hard, and strong. Our husky guide kindly invited us to drink their homemade vodka, that kind of hospitality is representative of many locals.
SC Village
Whether you believe or not, everyone has to go to see Santa. The Santa Claus Village is the official office of SC, in Lapland, just outside of the town. You can post a letter, buy souvenirs, or walk around and get a photo stood by a sign saying, 'Arctic Circle.'
Stay
We have stayed in a few different hotels in Rovaniemi, some in town and one outside of town. The outside of the town hotel was nice, quiet, and surrounded by beautiful snow-covered trees.
Less light pollution increases the chances of a clear view of the Aroura Borealis. Most hotels will have the facility to rent out snowmobiles, but all trips to town require a taxi, and that adds up in cost.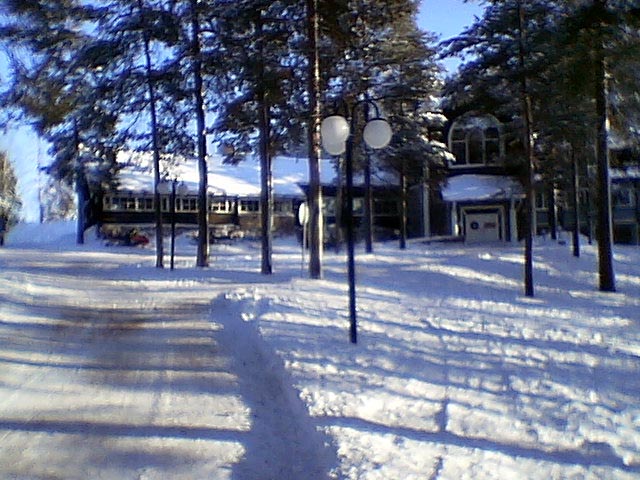 A town hotel will mean easy access to the shops, bars and also gives more choice on which snow safari company you use. Both locations have their merits, having done both I would choose the town hotel.
The safaris take you out to the remote locations anyway, and I am a traveller that needs to walk through habitation.
Conclusion
Completely unprepared and unaware of how cold -40oC was, even writing, it seems unbelievably cold now.
Cold air does not kill anyone instantly, but it does creep up quickly and makes it near impossible to heat up again. The biggest piece of advice to any traveller would be to take normal clothes and rent a ski-suit there.
Most snowmobile companies will let you keep a hold of the kit for the duration of your stay. Even with warm clothing, it is no match for a ski suit.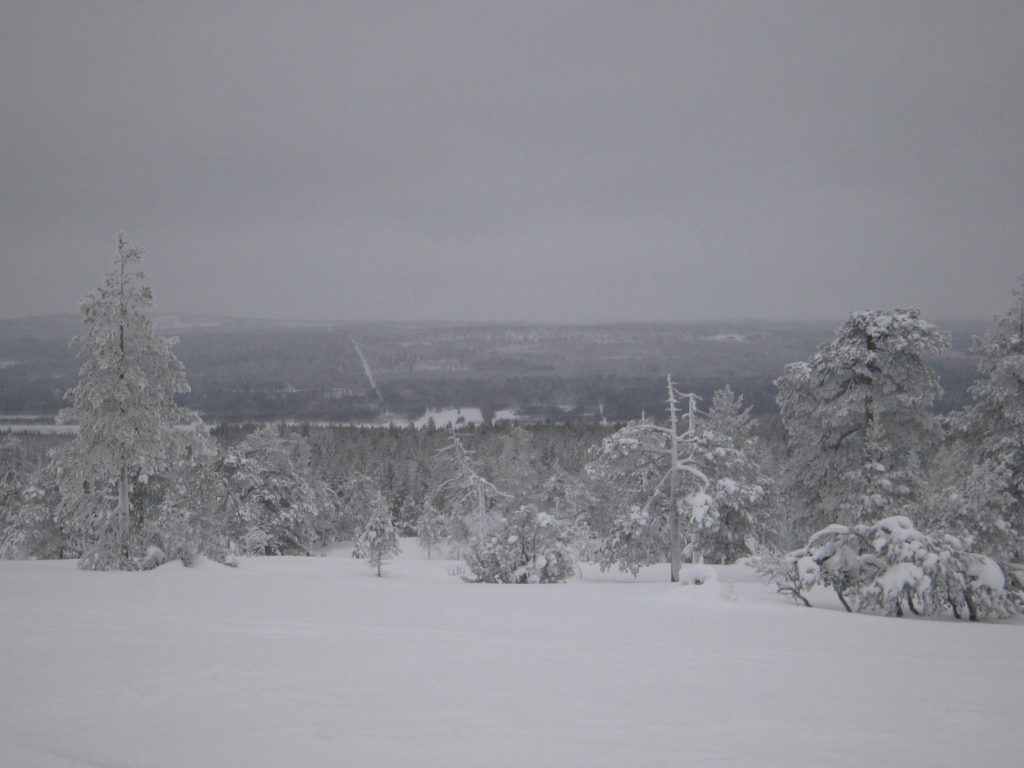 A great experience for a traveller who has spent most holidays going to hot countries. There is nowhere that I have been before, that takes the cold in such good spirits.
The silence of the snow cover forest makes speeding through with a noisy snowmobile that much more entertaining. The most fun in a cold place you can have, and far more entertaining than going to a hot country to walk around a mall.