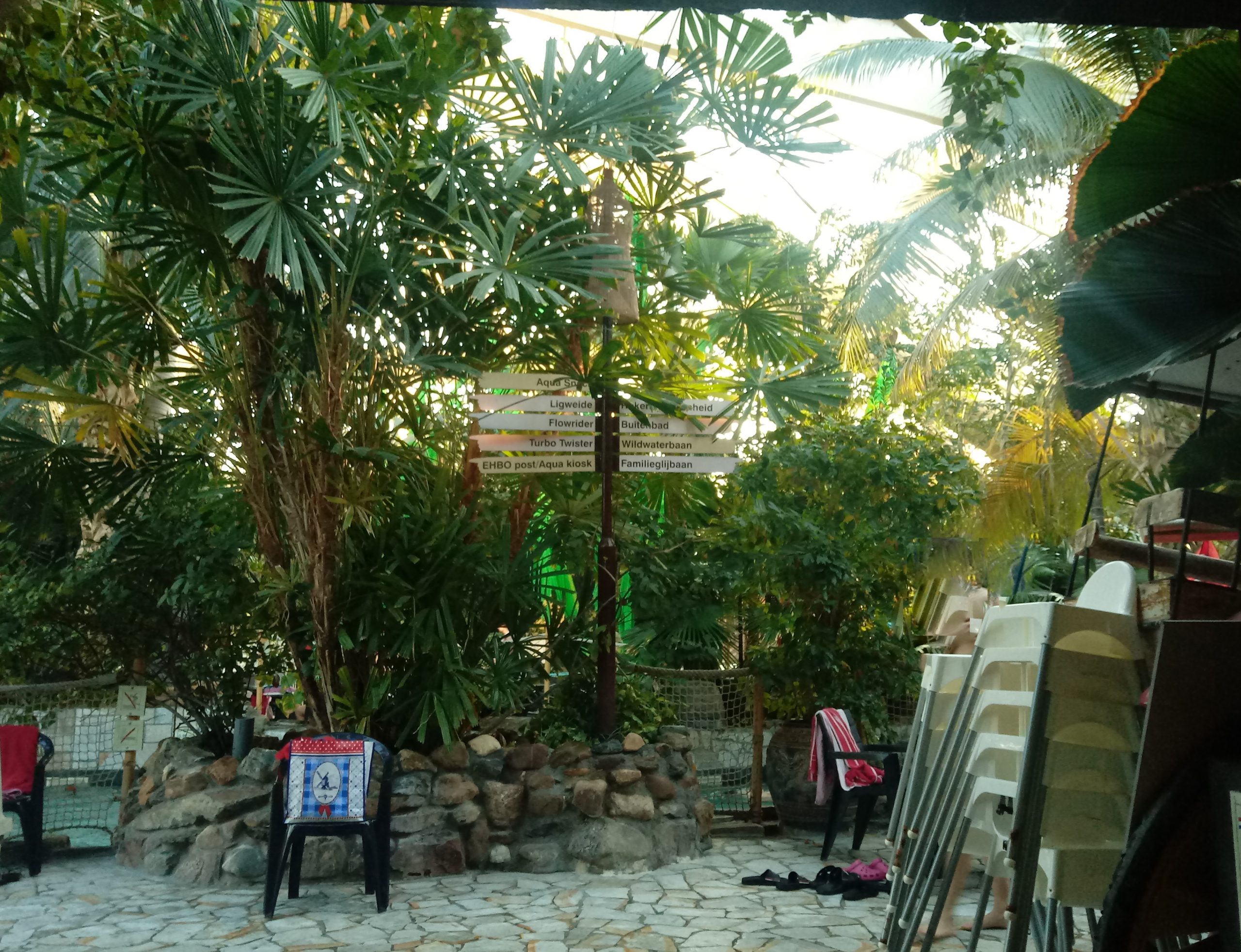 It is surprising how many people look to the Netherlands to enjoy a tropical Christmas — swimming, tanning, and water-sliding. There are resorts that offer a cool seasonal atmosphere and equatorial sweltering, all in one location. And if you decided to leave booking the place till October, you would be out of luck.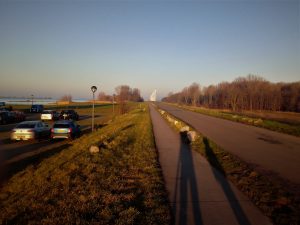 Flevoland is the newest of a list of reclaimed islands in the Netherlands, set 3 metres below sea level. The plateau is home to tens of thousands of people — and a couple of large resorts. Resorts that offer the type of entertainment that young families can enjoy as a whole.
De Eemhof is in Flevoland, about an hour's drive from Amsterdam, and in the centre of the Netherlands. Flevoland is a monumental project, which has required immense dams, dikes, and pumps to get the water out and houses in.
Welcoming
We travelled to De Eemhof, to a CentreParc, for a few days over the holidays. Getting into the resort is straightforward, and the staff meets you at a drive-through check-in. Everything thing is ready in a pack, which includes the keys to your apartment and tickets for whatever packages you went with.
A forest surrounds the area, shielding it from the wind. In the winter, it is cold as you would expect, and visitors make the most of the indoor activities.
Accommodation
There are two types of accommodation, huts that are in the middle of the park and overlook one of many artificial lakes. Or the alternative is to go to a furnished apartment with dramatic views over the waters of Nijkerkernauw and of the town of Spakenburg.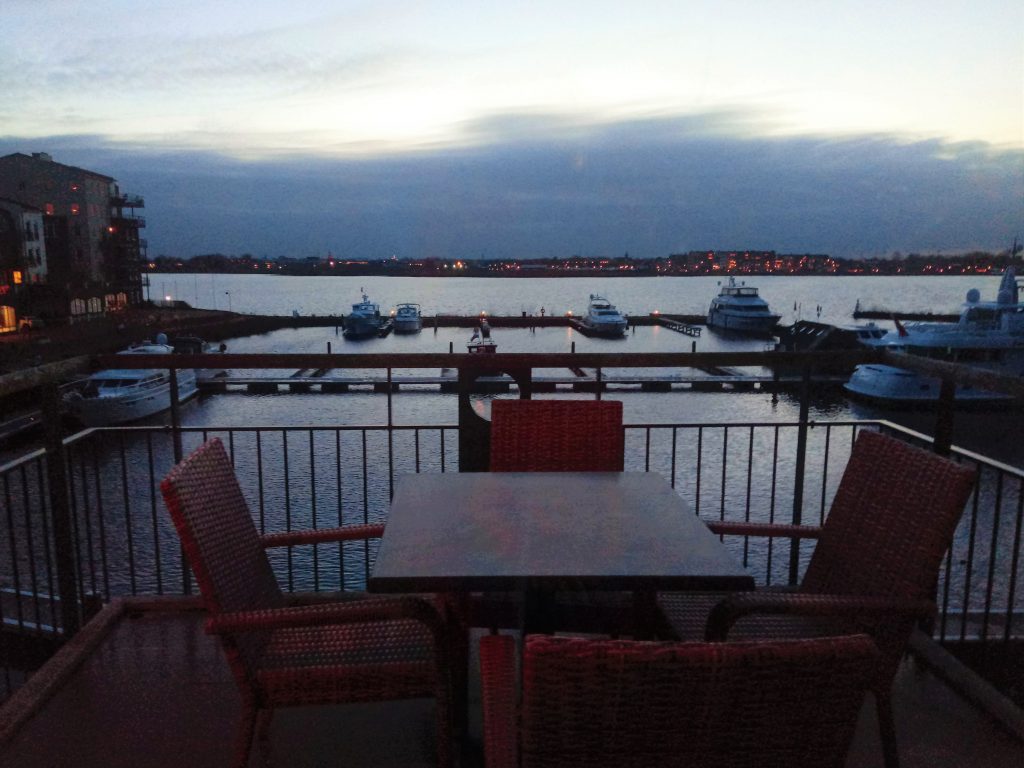 The living quarters are well-kept and equipped with everything needed to cook, clean, and care for a family. Our apartments had saunas with seating for 8-people, which I switched on by accident and turned the whole bathroom into a sweat-box.
Accessible to All.
The marina apartments are a further walk to the waterpark, restaurants, and shops in the centre of the complex. But the view is fantastic, you get a small balcony, and there is a large restaurant on site suited for more formal occasions.
You can also hire golf carts and bikes to get around. Elevators and wheelchair ramps make the apartments and areas of the resort accessible to all. And if you have kids, you can book a babysitter to get a proper break out of it.
Waterslides
Good old-fashioned waterslides that have less to do with careful descents, and more focus on bruising. Having been on a few water-rides in the past, it is safe to say that bigger is not always better.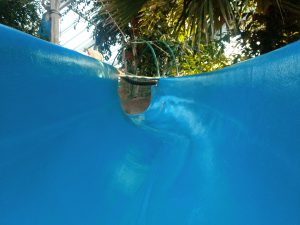 These slides are like the ones from the old Water World park in Hong Kong; classic fiberglass and concrete. The big difference is that in Hong Kong, the temperature rarely went below 10C, which is not far off Holland's average summer temperature.
Heated Waterpark — Cold Plunge.
To compensate, the heated waterpark is to a similar temperature and humidity to that of a tropical climate. Even the pools that go to the outside are at a comfortable bathing temperature. You can sit in comfort in the outdoor pool, with snow falling, and not feel like it is time to get out.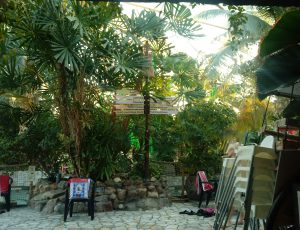 The outdoor pool has a cold plunge, which is as bad as it sounds. Swimmers jump in from the pleasant warmth of the gas heated pool to understand the feeling of freezing. The heated pool is a small section of the water park, and you start from the warmth of the main building, so even those that fell the cold will cope with this.
Too Much Fun to Miss.
From the main heated pool, you can go down the solid concrete rapids into various spa baths, slides, and hidden (underwater) speed bumps. Getting on in my years, I did feel like I had broken a hip on the way down. That said, the slides are far too much fun to miss out on, and we went on them at least 10-times a day.
Other slides include the usual tunnel sort, a few rings, and a wave pool. There is also an artificial wave facility in the park if you want to try your hand at falling into a high-powered wave face-first to amuse your family.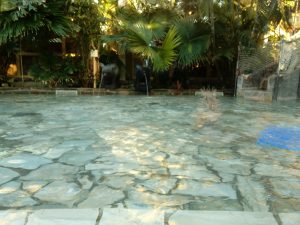 Food is what you would expect of a park, with a similar choice and price to anywhere else. You can change and shower for free, but entry is either paid for with the price of accommodation or on entry.
Activity Centre
Water is not for everyone, especially if you are living in a country where it is raining 90% of the time. So, the park has made a retreat from the wet and installed an activity centre to cater for kids up to their teenage years.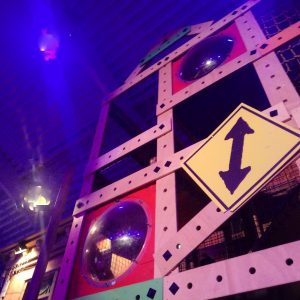 Indoor climbing, bowling, live shows, arcade games. The park wants to keep people on their property, and they do it well. In the summer, these activities expand to the outdoors, with more climbing and boating activities.
They have honed in on the simple concept of having a place that a family can go and be together while still having the space to do their thing when they want to. There is also a small petting zoo.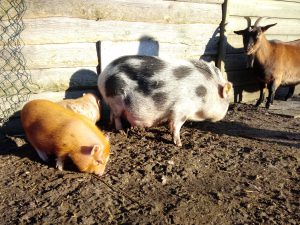 Food
There are two choices on how you can choose to eat in these places. You either shop and cook, or you go out to eat, or you can mix it up. As a fan of self-sufficiency, we prefer breakfast and to eat either lunch or dinner in the apartments we stay at.
Prices for food and drink are reasonable.
Going out two or three times a day to forage for food, and pay a premium for it, is not enjoyable. A good-sized supermarket is on-site, where you can get booze, sweets, fresh and frozen food, and rent hot plates to cook it all on. The big surprise was a great choice of gluten-free bread, pasta, and some other frozen food, which was essential to us.
And despite being the only onsite supermarket that was in walking distance, the resort does not take advantage of it. Shop prices for food and drink are reasonable, and you do not feel like you have to be careful about what you buy.
Restaurant
When you are on holiday, you will want to go out for a meal. Again, the staffs' readiness to accommodate our gluten-free needs was a surprise, as were the menu prices, which were a lot lower than you would expect.
There are several restaurants and cafés to choose from. The venues include Italian, buffet, bars, and snack restaurants. All these venues offer fresh food, which comes with a smile.
Closest Town
Being a keen runner, I decided to run the road that compliments the giant windmills. Each massive piece of machinery stands hundreds of feet into the sky, with no one around — even the ducks hide from the chill wind.
At the end of this line of 20 or so windmills stand a bridge to the mainland. The bridge looks a lot nearer when viewed from the De Eemhof marina — which is, in fact, 8 kilometres away. In the opposite direction, there is another bridge to the mainland — also about 8 kilometres from the marina.
If you want to walk to Spakenburg (500 metres across the water), you will need to make a 20-kilometre detour. There are small boats that carry passengers in the summer and parts of the winter, but these are not cheap.
As it happens, there is plenty to do at the park, and you do not feel the need to go anywhere. Spakenburg is a trip you could do when leaving the complex, on the last day of your holiday.
Weather
It's Holland. Bring warm clothes and an umbrella.
Negatives
Couples could go, but the idea of this place is to keep kids out of their parent's hair and prevent family arguments. Younger adults in their 40s will enjoy the indoor heated water park, as did I. And it does give the feeling that you are in a country other than one in Northern Europe.
The remote location is my single biggest gripe. This is from someone that does not live in the country and would like to walk to a nearby town for variety. We could have gone exploring, but we were having far too much fun to worry about soaking up the culture.
We did drive to nearby Harderwijk, a traditional Dutch town, which is 20 kilometres away. The town is worth visiting and has plenty of history to absorb.
Resort Result
After 4 days, you will feel like you have gotten everything from the park — in the wintertime, at least. In the summer, when you can spend more time outside, you could spend a full week there, without complaining.
Parents have a chance to enjoy the holiday they paid for.
Would do it again, if not this resort, then a similar one. We have done Club Med in the past, which is more for adults wanting to get drunk and behave like kids. This place treats kids with respect and gives them plenty to do. And parents have a chance to enjoy the holiday they paid for.
If you have been to Holland before — this place will make a nice change. If you haven't been, the location is a good base, if you have a car. It is set dead centre of the north and the south of Holland — you are close to Amsterdam, Rotterdam, and Utrecht.
For those that prefer a car trip over a long-haul flight to a tropical climate that lacks any Christmas atmosphere. And for those that live in Northern Europe and want to do something a bit different, then this is different enough for consideration.